Flood Zones and Your Island Heights Home
5/3/2023 (Permalink)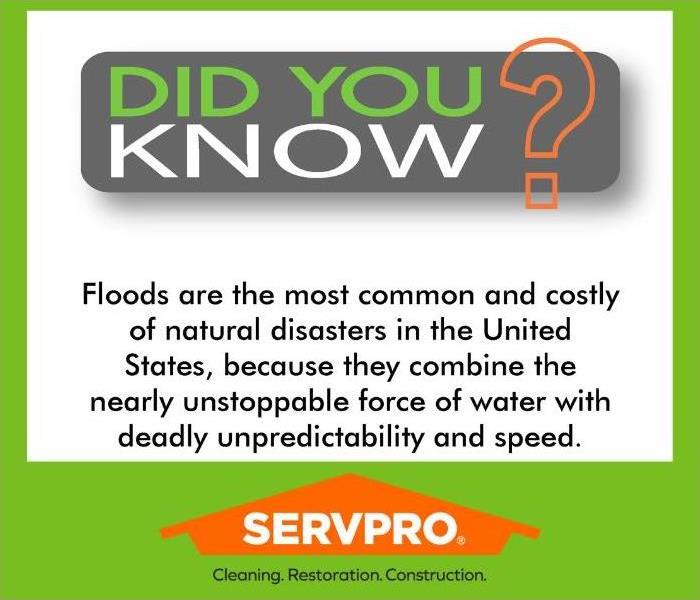 As a leader in flood damage restoration, SERVPRO of Toms River has the specialized training to restore your home back to its pre-flood condition.
If you live in Island Heights you may be wondering if your property is at a high flood risk. According to Risk Factor, "There are
229 properties in Island Heights that have greater than a 26% chance of being severely affected
by flooding over the next 30 years. This represents 23% of all properties in Island Heights." Just because some areas of Island Heights have a greater chance at experiencing a flood, doesn't necessarily mean flood damage is going to happen to your home. It is always best to be prepared, below we have couple tips about these zones and how they could affect your home:
What is a Flood Zone? Flood zone describes the risk of flooding for a specific area. Everyone lives in a flood zone- it's
just classified between low, moderate, or high risk. FEMA determines these risk levels and you can locate this information at FEMA Flood Map Service Center.
Do I Need Flood Insurance? In New Jersey, if your home is in a high risk flood zone area you might be required to have flood insurance in order to qualify for a mortgage. In most cases, flood insurance is a separate policy than your homeowners or renters insurance. Discussing this with your insurance agent is the best way to determine this and see what your options are. Although flood insurance is not mandatory, it is always best to have coverage.
What to do if a Flood Happens? If a storm causes flooding in your home, you need to contact SERVPRO of Toms River as quickly as possible for storm damage repair. Our highly trained team of professionals have the necessary equipment to extract large amounts of water and restore your property back to its original condition. It is important to act fast to prevent further damage to your home and potential mold growth.