Understanding Mold in Your Beachwood Home
2/10/2023 (Permalink)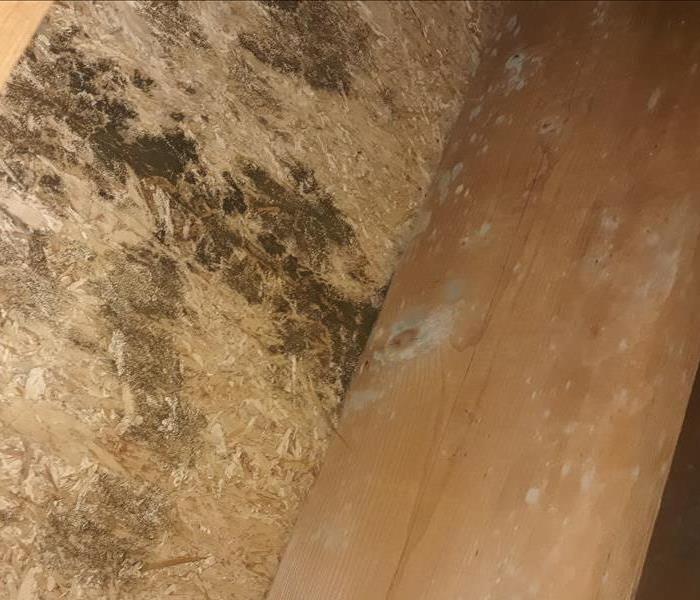 Mold from a leak in a Beachwood basement before SERVPRO of Toms River's mold remediation removal process.
Do you know that mold growth can start in 24-48 hours?
When water and/or moisture intrudes into your property, mold growth can start in as little as 24 hours. Mold growth occurs when mold spores settle on a surface at the proper temperature, with appropriate food sources, and with the proper amount of moisture.
Consider the following mold facts:
Mold is present almost everywhere, indoors and outdoors.
Mold spores are microscopic, float along in the air, and may enter your home through windows, doors, or AC/heating systems or even hitch a ride indoors on your clothing or a pet.
Mold spores thrive on moisture.
Mold spores can quickly grow into colonies when exposed to water.
Before mold remediation can begin, any sources of water or moisture must be addressed and stopped. Otherwise the mold may return.
Mold grows fastest between 77°F and 86°F with relative humidity above 55%.
How do I tell if my Beachwood home has mold?
You can contact a qualified mold testing company.
What to do if you discover it is mold?
Mold in your home should be treated with caution until it can be safely remediated. Try to avoid the areas affected with mold if possible. Don't touch or disturb the mold because you could inadvertently cause the mold to spread.
If you suspect that you have a mold issue and are in need of mold remediation in Ocean County, contact SERVPRO of Toms River at 732-349-9898.